The main goal of the joint action "Research - Create - Innovate" is to connect research and innovation with entrepreneurship and to strengthen the competitiveness, productivity and extroversion of companies to international markets, with the aim of transition to quality innovative entrepreneurship and increase in domestic added value.
The aim of this action is the direct and effective channeling of the available resources for the promotion of research activities and the implementation of innovations in enterprises and especially in small and medium enterprises through a series of interventions.
Objectives of the action:
Economic growth based on knowledge and sustainable specialization
Integration of new knowledge and innovation in existing but also in new products, services, production systems and value chains
Linking academic research to market needs and the economy.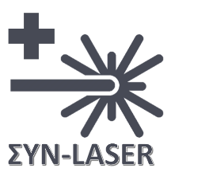 ΣYN-LASER
The present project aims at the development of new processes for the assembly and the wire bonding of electronic circuits with digital laser printing and sintering technology, in order to integrate them into industrial processes of packaging and production of electronic circuits. In particular, the first application we describe is the assembly of electronic components with contact pad sizes smaller than the minimum dimension (0.2 mm) that the state of the art surface mount technology (SMT) can achieve. The proposed digital laser technology has a resolution of 10 micrometers, and allows accuracy in controlling the amount of conductive paste at the level of 10 nL. In addition, laser printing technology will be applied for the innovative manufacturing of electrical connections for integrated circuits in BGA packaging with a resolution of 10 micrometers. For the second application, printable materials with silver and copper nanoparticles will be designed, manufactured and characterized by two project partners, until their properties are optimized for high-conductivity and high mechanical strength interconnections.